" My team and I, extensively use FireCompass to evaluate products. It is a very good tool "
- CISO, IDFC Bank
How Can You Use FireCompass (It's Free)?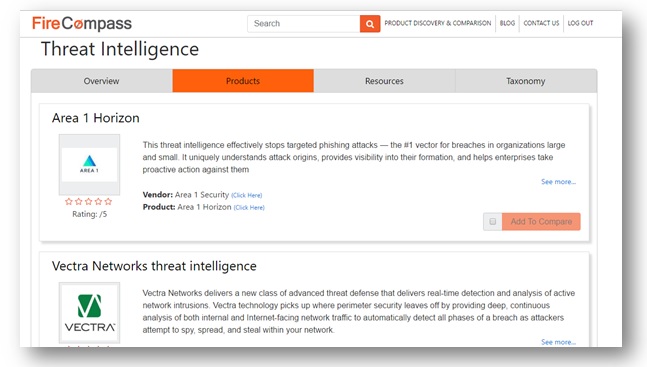 Never Miss Out a New & Great Product
Discover over 20+ Threat Intelligence vendors such as Fireeye, IBM, Recorded Future, Dell, Symantec etc. that can help you ensure the robust network security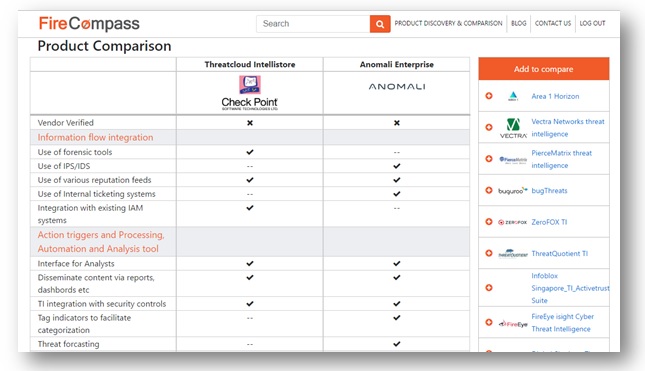 Are You Comparing Products Correctly?
Compare the top Security Threat Intelligence softwares across features like Network Information, Information Flow Integration, Applied Intelligence etc. Eg- Area1 Vs. Vectra, BugThreats Vs. Zerofox TI, Anomali Vs. Falcon-Intelligence and many more
Frequently Compared Threat
Intelligence Products
Area1 Vs. Vectra
BugThreats Vs. Zerofox TI
Anomali Vs. Falcon-Intelligence
DeepSight Intelligence Vs. ThreatSmart
Zerofox TI Vs. Anomali
BugThreats Vs. Vectra
Join FireCompass
Discover & Compare Products
Real Users' Feedback
Make Better Decisions