Continuous Automated Red Teaming
Launch continuous safe attacks that identify blind spots before they are exploited
"Traditional Red teaming involves multiple tools and manual effort. FireCompass eliminates the need for repetitive manual effort ..significantly helped to improve delivery speed & the depth-breadth of testing.."
Is it Important to Launch Continuous Safe Attacks to Identify Blind Spots ?
Only the most advanced organizations have had the ability to conduct red teaming and testing a few times a year on
just
a subset of their assets due to the complexity of the technology and the significant financial and time investment
.
One area where cyber attackers have an edge is that organizations test "some" of their assets "some of the time" whereas hackers are attacking all of the assets all of the time.
To stay ahead you need a platform that can mimic a real attacker, to help identify attack paths before threat actors do, in other words have continuous red teaming capability. 
Here are the risks that a continuous automated red teaming (CART) platform mitigates:
Detect vulnerabilities in your security controls helping to prevent the risk of the future breach (empowering blue teams)
Measure how security defenses will hold up to a real-world attack (you need real-world attacks with multi-stage attack capabilities )
Gartner says "Nation-state actors and criminal organizations operate with a level of sophistication that surpasses the preventative and detection capabilities of most security and risk management teams

."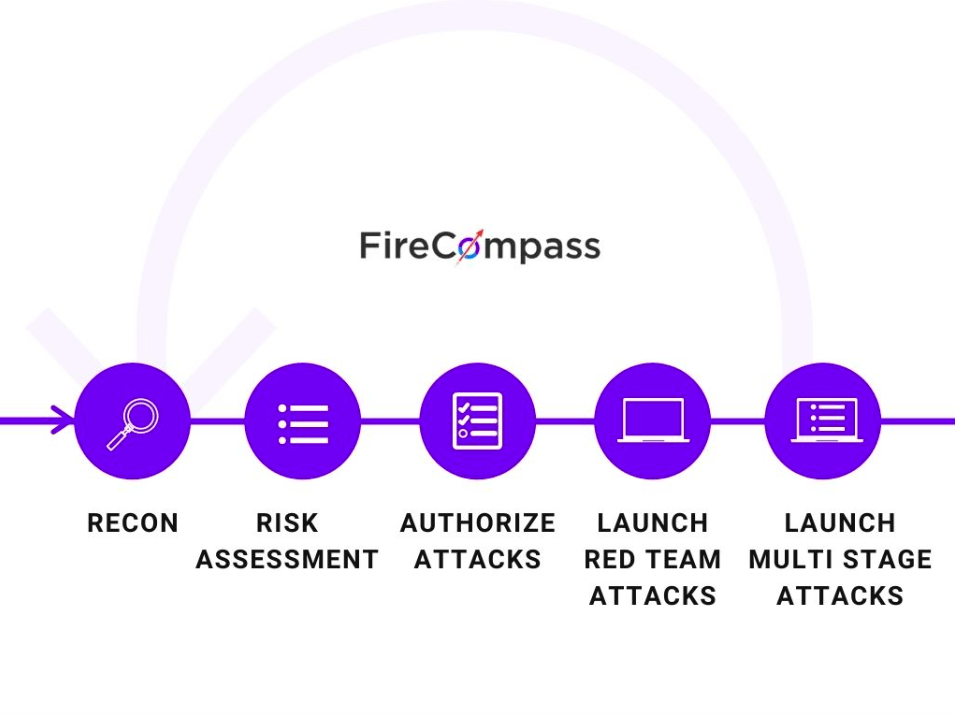 How FireCompass Helps: Continuous Automated Red Teaming (CART)
Runs Continuously. No Software. No Hardware. No Additional Resources
Continuous RECON & Attack Surface Discovery
FireCompass runs
continuously
and indexes the deep, dark and surface web using the same elaborate reconnaissance techniques as threat actors
.
The platform
automatically
discovers an organization's ever-changing digital attack surface, including unknown exposed databases, cloud buckets, code leaks, exposed credentials, risky cloud assets, and open ports, etc. FireCompass product does the below:
Fast internet-based recon on 3 Billion+  IPs using a headless browser
Deep, dark and surface web OSINT data collection

The algorithm uses elaborate recon techniques as threat actors to collect data from threat intel feeds etc

.


Authorize Scope & Launch Safe-Attacks
Authorize
the scope where you want to launch the attacks and find out vulnerabilities and possible Attack Paths before attackers do
.
FireCompass engine then launches multi-stage attacks, which includes network attacks, application attacks, and social engineering attacks, on the discovered digital surface to identify breach and attack paths
. FireCompass product helps to:
Conduct port scanning & network VAConduct DAST and OWASP top 10 attacks on web based applications
Conduct SAST  attacks on mobile applications
Active social engineering attacks
Cloud attacks 
Objective based attacks 
Prioritize Risks & Remediate
The dashboard summarizes the high, medium, and low priority risks and the recommended mitigation steps
.
Launching safe- attacks
just
like a real attacker helps you to discover holes in your perimeter and find out how your defenses hold up against a real-life hack across people, process & technology
.
Prioritize

high-risk vulnerabilities that are most likely to

be exploited

Access & improve the effectiveness of your security tools, SOC, and managed security partners
Benefits of Using FireCompass
Red teaming is a multifaceted attack simulation to assess the effectiveness of an organization's security protocols. In layman's terms, red team hacking is a type of ethical hacking that probes for potential security gaps that can provide unauthorized access to people/groups with malicious intent.
During the red teaming process, the cyber red team simulates different attack scenarios meant to expose any physical, network, or human vulnerabilities to an organization's network.
How does Red Teaming help?
Red teaming is born out of a premise comparable to that of a sports adage that says, "The best offense is a good defense." Since unauthorized access to a private network can be affected in hundreds of ways,  red teaming ensures that the defense mechanisms in place can withstand attacks from virtually all the possible ways. Red teaming helps organizations to test their defense and response capabilities.
So red teaming is not just about finding gaps in your defensive security protocols; it also provides a framework through which you can strengthen the defenses.
Who Benefits from Red Teaming?
Organizations of all sizes can benefit from red team exercise. Small organizations might think that they have no use of red teaming since they believe they have nothing valuable for them to be the target for unauthorized intrusions, but cyber-attacks are not exclusively interested in sensitive information; some threat actors might turn your systems into botnets, crypto miners or use them as relays for their malicious activities targeting other systems on the internet.
Why Red Team with FireCompass?
FireCompass offers Continuous Automated Red Teaming (CART) that focuses on enterprise security by continuous recon & automated red teaming, helping you to test "all" of your assets "all" of the time.
FireCompass continuously indexes and monitors the deep, dark, and surface web using nation-state grade reconnaissance techniques. The platform automatically discovers an organization's digital attack surface. It launches multi-stage safe attacks, mimicking a real attacker, to help identify breaches and attack paths otherwise missed by conventional tools.
Visit our page for more information on red teaming and our Continuous Automated Red Teaming (CART). You can also get in touch with our Red Team cybersecurity for any inquiry related to our red teaming service.
FireCompass is a SaaS platform for Continuous Automated Red Teaming (CART) and Attack Surface Management (ASM). FireCompass continuously indexes and monitors the deep, dark and surface webs using nation-state grade reconnaissance techniques. The platform automatically discovers an organization's digital attack surface and launches multi-stage safe attacks, mimicking a real attacker, to help identify breach and attack paths that are otherwise missed out by conventional tools.
See your organization's attack surface from a hacker's viewpoint: Digital Attack Surface & Shadow IT, Exposed Database,Cloud buckets, Risky Ports, Misconfigured Infrastructure, Code Leads & more)