" My team and I, extensively use FireCompass to evaluate products. It is a very good tool "
- CISO, IDFC Bank
How Can You Use FireCompass (It's Free)?
Never miss out a New & Great Product 
Discover over 15+ IAM products such as Sailpoint, RSA via Access, IBM Identity Manager, CA Identity Suite, Courion, Omada that can provide you with the best Identity and Access Management Solutions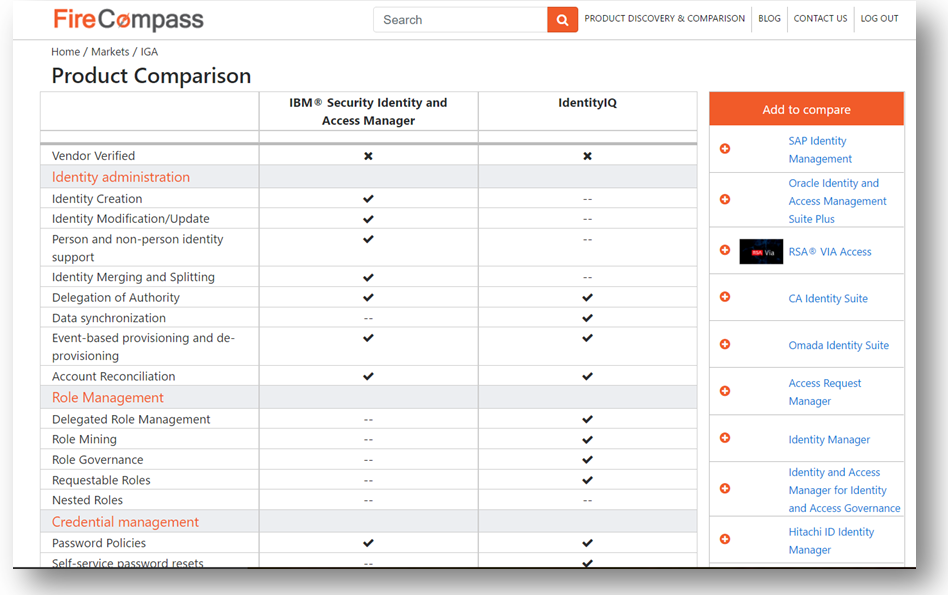 Are you comparing the products correctly?

Compare all IAM vendors across features like Identity Administration, credential management etc. Eg- Sailpoint Vs. IBM, Courion Vs. Omada , CA Technologies Vs. Dell and much more
Frequently Compared IAM Products
IdentityIQ Vs. RSA via Access
SAP Vs. CA Technologies
Omada Vs. Courion
Dell Vs. Evidian
CA Technologies Vs. IdentityIQ
Hitachi Vs. Entrust
Join FireCompass
Discover & Compare Products
Real Users' Feedback
Make Better Decisions